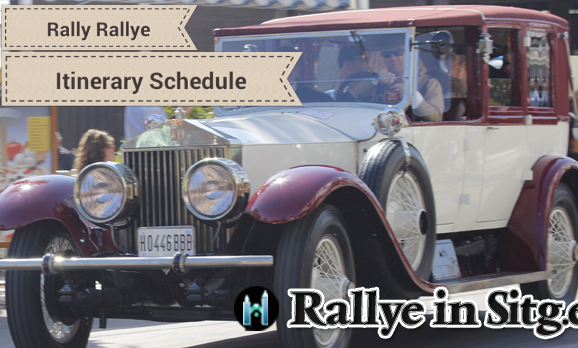 Saturday March 3
From 10 o'clock (Barcelona)
Arrival of all participants on Avenida Diagonal, in front of the L'illa Diagonal shopping center. Verification and presentation of the participating cars until 5:30 p.m. (approx.).
Concentration in the Place de la Frigate of Volkswagen classics, T1 and T3 among others, until 5:00 p.m. (approx). With the collaboration of the Club Escarbats de Catalunya
Sunday, March 4th
From 08.30 a.m. to 10 p.m.
Arrival of the participating cars in Plaça Sant Jaume, with its occupants dressed for the time. Typical chocolate in the City of Barcelona, ​​with the collaboration of Chocolates Jolonch, Pannus and Cafés Saula.
Exit of the Rally from Barcelona (Plaça Sant Jaume – Ferran – Ramblas – Plaça Catalunya – Ronda Universitat – Ronda Sant Antoni – Sepúlveda – Paral·lel – Plaça Espanya – Gran Via – Badal – Constitució), to L'Hospitalet de Llobregat (Santa Eulàlia – Enric Prat de la Riba – Barcelona), Cornellà de Llobregat (Carretera de L'Hospitalet – Av. De la Fama – Tirso de Molina – Av. Baix Llobregat – Link with the C-245), Sant Boi de Llobregat, Viladecans, Gavà, Castelldefels, link with the C-246, Costes de Garraf and arrival at the Port of Sitges – Aiguadolç.
On the Paseo de la Ribera (next to the Plaza de la Frigate). Performance of the swing group Apocadixie 4. At 01:30 p.m. Departure from the Port of Sitges – Aiguadolç with the following route: Av. Port d'Aiguadolç – Emigrant Roig i Raventós – Av. Balmins – Port Alegre – Rafael Llopart – Jesús – Cap de la Vila – Parellades – Marquès de Montroig – Industry Square – May 1 – Paseo de la Ribera – Bassa Ronda – San Antonio – Av Sofia and Paseo de la Ribera to La Fragata.
Cars will be exposed until around 5.30 pm.
Monday, March 5th
Playful outings on the Garraf and Alt Penedès highways, following two of the oldest routes of speed in Catalonia, the Circuit del Penedès and the Vilafranca circuit. This departure from Sitges will travel through the towns of Sant Pere de Ribes, Canyelles, Vilanova i la Geltrú, Vilafranca and Sant Sadurní de Noia, where the comitory will stop Wings Caves from the sponsor of the Rally, Pere Ventura, where they will do a guided tour of its splendid cavas and finalized with an informal closing lunch at the Rally. (The route of this exit can be modified for reasons of traffic security by the Servei Català de Transit)